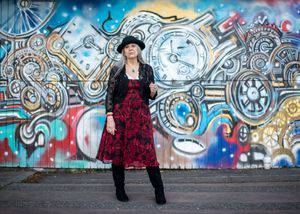 Nancy K Dillon | American Songs & Stories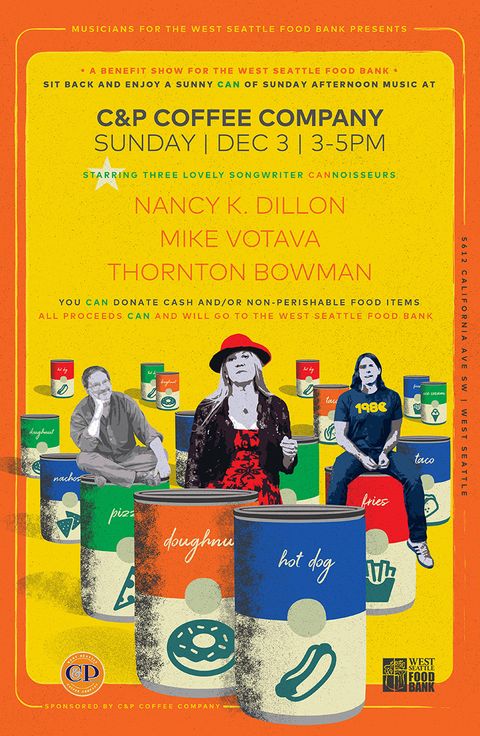 December 3, 2023 3pm - December 3, 2023 5pm
Musicians for the West Seattle Food Bank present a Benefit Show for the West Seattle Food Bank. Appearing are songwriters, Nancy K. Dillon, Mike Votava and Thornton Bowman. Sit back and enjoy a sunny can of Sunday afternoon music at C&P Coffee Company.
Donations of cash and/or non-perishable food items greatly appreciated! All proceeds to the West Seattle Food Bank. Event sponsored by C&P Coffee Company, 5612 California Ave SW, West Seattle.
more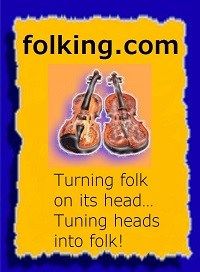 NANCY K DILLON – A Game Of Swans (Rose Rock Records RRR333)
People may talk about "pure" Americana but this is the real thing. A Game Of Swans is Nancy K Dillon's third studio album, recorded, by the wonders of electronic communications, on both sides of the Atlantic with a group of musicians reflecting her British roots as well as her Seattle home. The final song, 'Poor Man's Lullaby', for example, is co-written by Gavin Sutherland (with a brief nod to Woody Guthrie) and part recorded in Aberdeen. It features the pseudonymous J J "Breeze" Bridges and Levon "Hawk" Marvell – ho, ho, ho.
The first three songs are set explicitly in the 19th century. The first, 'Dutchman's Gold', is the tale of a secret gold mine in Arizona's Superstition Mountains. You just have to love a song like that. 'St. Jude', written by Drew Nelson and Janni Littlepage, tells of a woman leaving the old country for the new in search of her man who went on ahead and presumably found himself fighting in the Civil War. Jude is the patron saint of hope but he's referred to here as the patron...
more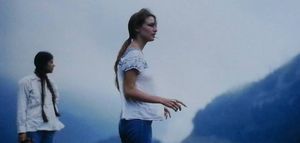 "The Great Pause" ~ Thoughts During a Pandemic [March 2, 2021]
The Great Pause
I've been thinking a lot about breath & breathing lately. And rest notation in music. Like pretty much everyone else who is breathing, the past year I've maneuvered my way through a series of phases: Shock – disorientation – adjusting to an unthinkable new reality – learning coping skills and figuring out how to cover the basics. I've been lucky since my previous lifestyle was impacted far less than that of others. Compassion often brought tears.
At first, the novelty was…..well, novel. Time was opened up to a large degree and as the initial shock wore off somewhat, ideas and opportunities would occur to me on walks or in quiet moments. I watched a ton of news (an attempt to ward off panic) and lost myself in superb films & TV series (an attempt to distract my thoughts….and ward off panic). I invested in a few pieces of gear with an eye to livestreaming, took a class on 'How to YouTube,' enjoyed some Zoom Song Hangs or Happy Hours with friends.
Over time, however, the relentlessness of isolation and the stress of world news began to take a toll. I didn't follow through with many of the ideas I'd had initially. I didn't finish my in-process album, write a bunch of songs, learn to livestream, etc. What, in the end, felt most comforting and reassuring was surprising: I began an exhaustive reorganization of my music library: 100s of CDs, cassettes and LPs. I went through old binders of lyrics, organized stacks of disorganized paper, found photos I'd completely forgotten….you get the picture! This was soothing in a strange way and a great antidote to the unbidden fears and angst by soothing frustration and anxiety.
Since my habit is to seek silver linings and be thoughtful in my language even to myself, I resisted calling the Pandemic many of the terms I kept hearing: Lockdown, Isolation, Government Intervention and so on. Eventually, as I took breath after breath, I would listen and hear…..simple quiet, wind in the evergreen trees, birdsong, my own thoughts and ideas. This took on an intense quality of calm serenity and equanimity. As long as I kept breathing….and listening, I was reasonably calm.
Eventually, to myself, I began referring to the Pandemic as "The Great Pause" and I found hidden secret jewels in the openness and breadth of such an unusual pause in activity. A 'rest' if you will. I played alto clarinet in my high school band. My dad was the Band Director. I loved playing alto clarinet because the composer often allocated a counter-melody to the alto clarinet section. Often they were so beautiful – an alternate melody. Oh, and many RESTS ! I got used to open spaces in the score and was transfixed by the varied symbols notating how we should count up the time until our next entrance. That is how this time feels. Counting the beats until the music calls for the next entrance. Preparing….imagining the notes coming up….embouchure forming….positioning my instrument.
We are nearing time for the end of "The Great Pause." Take a breath……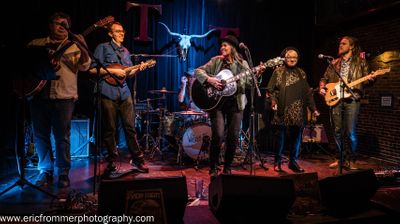 Nancy K Dillon | American Songs & Stories: Echoes From the Future Meet Ghosts From the Past
Nancy K. Dillon is a songwriter/performer and visual artist. She has 3 full-length studio albums, and an EP ("Live at The Royal Room"). Her most recent CD ("A Game of Swans") was released in the USA January 2018 and debuted in the Top 20 on FAI's Folk Radio Chart. It was released to Europe and the UK on December 25, 2018 to extensive airplay on the BBC. Nancy's 4th studio album ("Cawker City Blues") is presently underway. Dillon is a former KBCS-FM Folk DJ and operates a small niche radio promotions business, Rose Rock Music Services, working with independent folk/Americana artists from around the USA. Nancy is a board member of FAR-West and Puget's Sound Productions.
"A Game of Swans" is Feature Album of the Week on BBC Radio Scotland's "Iain Anderson Show" ~ January 2019
UK Magazine Folking.com's Dai Jeffries has reviewed Nancy K Dillon - "A Game of Swans" ~ January 2019 ~ "People may talk about "pure" Americana but this is the real thing."
Just in! Northern Sky Magazine's 4 star review of Nancy K Dillon - "A Game of Swans" ~ January 2019 ~ Mark Higgins: "....an album of smooth Folk Blues and Country by a fine vocalist and songwriter. It flows around you, comfortable, comforting, well crafted and warming, like a familiar vintage coat on a fresh woodland walk."
"A Game of Swans" to be released in UK/Europe December 2018!
FOLK DJ Chart for January 2018 : So pleased to see Nancy K. Dillon's "A Game of Swans" album in the Top 20 (at #19!). Also Nancy K. Dillon is #28 on the Top Artists List for January !!
FOLK DJ Chart for February 2018 : A 2nd Month on the FOLK DJ Chart!! Nancy K. Dillon's "A Game of Swans" album in the Top 50 for February 2018 !
Seattle CD Release Show: March 4th 2018 at Tractor Tavern. Tickets available at ticketweb.com.
January 20, 2018 is "Official USA Release Date" for "A Game of Swans" by Nancy K. Dillon.
Order your copy of "A Game of Swans" from iTunes, CD Baby, BandCamp or Amazon today!
Do you Spotify? Check out Nancy's Spotify Artist Page and "Follow" - see button below.
On her newest recording, "A Game of Swans," Dillon hearkens back to her ancestral roots in Ireland, Scotland and England. Like her forebears, her gaze is firmly forward as she listens to dreams, makes plans and watches for signs leading into a new future. The 12 tracks on "A Game of Swans" contain haunting stories married to antique strains of Celtic melody migrated to America: strains that have always flowed just beneath the surface underpinning Dillon's music.
"A Game of Swans" contains 10 originals and collaborations as well as Nancy's version of songs by Drew Nelson/Janni Littlepage and Pat Long. The stories related on "A Game of Swans" draw characters from lost gold mines, haunted pioneer cabins, railroad hobos and immigrants' prayers for last chances. Simpatico musical support from uber-talented friends in America, Britain and Scotland color this new project with the perfect tones.
Inspired by the varied migratory paths taken by both her Georgia Loyalist and Scots-Irish Presbyterian forebears as they aimed towards better futures, Dillon herself took flight from her beloved home state of Oklahoma into the vast American West. Settling in the verdant beauty of the Pacific Northwest allows for road trips that still the mind and feed the imagination.
As a patchwork quilt holds pastel memories of summer dreams and dresses, Dillon's song-catcher sensibilities capture ephemera of the American story. Have a listen....hearken back....and lean forward.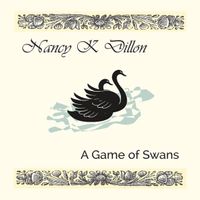 January 20, 2018 ~ Official USA Release Date for "A Game of Swans" by Nancy K. Dillon
"A Game of Swans" Official USA Release Date is January 20, 2018. CD format or Downloads available at iTunes, CDBaby.com, Bandcamp. Stream at Spotify & Apple Music.
In the Bleak Midwinter (A Christmas Single)
Rose Rock Records is pleased to announce our release of a new digital Holiday single, the beautiful English Carol, "In the Bleak Midwinter" performed by Nancy K. Dillon & Friends. Available on Spotify, Amazon, iTunes, Apple Music & elsewhere.
Watch the lyric video with beautiful peaceful winter scenes on YouTube - Click HERE
Preview and/or donate on Bandcamp (see music player below)
High quality digital MP3 is available from CD Baby - Click HERE. [Note: 100% of all proceeds will be donated for diabetes research.]
"Live at The Royal Room" EP
Recorded in April 2015, this live set is available for purchase at via BandCamp or artist's website. Click here to preview or purchase the album.