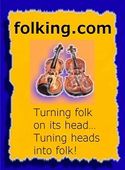 Folking.com reviews "A Game of Swans" ~ "People may talk about "pure" Americana but this is the real thing.".
NANCY K DILLON – A Game Of Swans (Rose Rock Records RRR333)
People may talk about "pure" Americana but this is the real thing. A Game Of Swans is Nancy K Dillon's third studio album, recorded, by the wonders of electronic communications, on both sides of the Atlantic with a group of musicians reflecting her British roots as well as her Seattle home. The final song, 'Poor Man's Lullaby', for example, is co-written by Gavin Sutherland (with a brief nod to Woody Guthrie) and part recorded in Aberdeen. It features the pseudonymous J J "Breeze" Bridges and Levon "Hawk" Marvell – ho, ho, ho.
The first three songs are set explicitly in the 19th century. The first, 'Dutchman's Gold', is the tale of a secret gold mine in Arizona's Superstition Mountains. You just have to love a song like that. 'St. Jude', written by Drew Nelson and Janni Littlepage, tells of a woman leaving the old country for the new in search of her man who went on ahead and presumably found himself fighting in the Civil War. Jude is the patron saint of hope but he's referred to here as the patron saint of fools so I think that the writers may have another explanation for his silence. 'Annabelle' is the story of a woman living alone in the frontier west; a clear case of cabin fever but with the suggestion of a sinister back story.
Having set the scene she wants you to hold in your mind, Nancy expands her horizons with the title track co-written with Ian Lang which links both sides of the ocean thanks to acoustic guitars paired with Michael Connolly's uilleann pipes and whistle. Pat Long's song 'Fire In The Hole' is about a mining disaster which occurred in 1981 but with the combination of Connolly's fiddle and Stacy Phillips' resonator guitar it sounds as though it happened a century earlier.
From here Nancy explores a number of themes: simplicity and the power of old songs, failed relationships and the demise of letter writing. There's a homage to old-timey gospel songs with 'White Dove' until we reach the story of a hobo that is 'Poor Man's Lullaby'. A Game Of Swans is a rather lovely album and I have to single out Chris Parks' various electric guitars which do so much to establish the atmosphere from the first track and carry it forward. If you like pure Americana you'll love this.
Dai Jeffries
Artist's website: www.nancykdillon.net