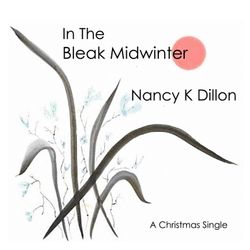 In the Bleak Midwinter (Single)
A beautiful holiday winter-time collaboration with a host of UK musos and Seattle's own Nora Michaels on harmony vocals. .Happy New Year, Everyone !!
Download the Single HERE! The best place to purchase your favourite artist's music in 2022 is Bandcamp.com. Visit nancykdillon@bandcamp.com to peruse Nancy's entire catalog of music. There you will find high-quality downloads in MP3, FLAC formats and more. Tracks also available for purchase on Apple Music, Streaming on Spotify, YouTube Music or your favorite streaming service.
More Details:
Produced by Ian Lang
Personnel: Nancy K Dillon: Lead & backing vocal - Chris Parks: Electric guitars - Nora Michaels: Backing vocal - Gavin Sutherland: Backing vocal - Ian Lang: Acoustic guitars, piano, bass, bells, big drum
Christina Rossetti's poem was written before 1872. Music by Gustav Holst was added in 1906 and it became a popular carol. Inspired here by Bert Jansch's version with lyric adaptations by Nancy K Dillon. Original painting: "Blue Flowers" by Gavin Sutherland. Recorded at: Nursery Studio, Stoke-On-Trent, UK Garey Shelton Studio, Mercer Island, WA Seatown Sound, Banffshire, Scotland © 2017 Rose Rock Records | Nancy K Dillon