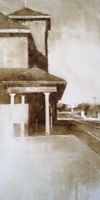 Peter Ludwin / Nancy K Dillon ~ Reading & Concert @ Couth Buzzard Books
December 1, 2016 7:30pm
Couth Buzzard Books presents a Reading / Concert with Nancy K. Dillon & Peter Ludwin. Peter will be reading from his new book of poems "Gone to Gold Mountain" based on a hidden slice of Eastern Oregon gold mining history as well as performings songs on autoharp and guitar. Nancy will be playing songs from her new EP "Live at The Royal Room" featuring historically based songs and stories such as "Louisville 1910", the story of the Colorado Coal Miners Strike and subsequent massacre and her story song about her great-grandfather, Asa Dillon, who was a train man and union official in North Central Kansas.
More about Peter Ludwin: Peter Ludwin is the recipient of a Literary Fellowship from Artist Trust and the W.D. Snodgrass Award for Endeavor and Excellence in Poetry. His first book, A Guest in All Your Houses, was published in 2009 by Word Walker Press. His second collection is Rumors of Fallible Gods, a two-time finalist for the Gival Press Poetry Award that was published in 2013 by Presa Press.
His new book, Gone to Gold Mountain, was published in August, 2016 by MoonPath Press.
A participant for twelve years in the San Miguel Poetry Week in Mexico,
where he studied under such noted poets as Mark Doty, Tony Hoagland, Joseph Stroud and Robert Wrigley, Ludwin was the Second Prize Winner of the 2007-2008 Anna Davidson Rosenberg Awards and a finalist during the same period for The Comstock Review's Muriel Craft Bailey Memorial Award. In 2010 he was nominated for a Pushcart Prize. In 2011 he received Special Merit Recognition from The Comstock Review, and that same year Soundings Review named him its Reader's Choice winner in the spring/ summer issue.
Most recently, he was named the 2016 First Prize winner of the Muriel Craft Bailey Memorial Award, a finalist in poetry for the 2016 Tucson Festival of Books Literary Awards, and the Second Place poetry winner of the 2016 Kay Snow Writing Awards sponsored by Willamette Writers.
His work has appeared in many journals, including Atlanta Review, The Bitter Oleander, The Comstock Review, Crab Orchard Review, Nimrod, North American Review and Prairie Schooner, to name a few. A world traveler who has journeyed by canoe to visit remote Indian families in the Amazon Basin of Ecuador, hiked in the Peruvian Andes, thumbed for rides in Greece, bargained for goods in the markets of Marrakech and Istanbul and survived debilitating illness in China and Tibet, he is also accomplished on acoustic guitar and autoharp. He lives in Kent, Washington, where he works
for the Parks Department.
+++++++++++++++++++++++++++++++++++++++++++++
More about Nancy K, Dillon: In her captivating songs, Nancy K. Dillon maps the American West: from the dusty highways that conjure up images of Kerouac's road trips to the big tents of traveling dust bowl carnivals; from a '66 Rambler American carrying free-spirited 70's hipsters to the hard-working horses carrying gold miners seeking fortunes and cowboys herding cattle.
Taking inspiration from Oklahoma & Texas troubadours Townes Van Zandt, Guy Clark, and Kevin Welch, Dillon's songs are short stories about the various characters that populate rural American life, as well as her travels through the American West and beyond. She is a three-time finalist in the Tumbleweed Song Contest and her songs have won 3 Billboard awards. Performing in and around her current base in the Pacific NW, she occasionally ventures further afield to perform at festivals, venues and house concerts around the US.
Dillon says "I think listeners want to go on little journeys and the best songs are like short films." Her recordings are sprinkled with mandolin runs, funky banjo cuts, and the keening wail of a dobro, and incorporate elements of bluegrass, folk-rock and alt-country. Dillon's music is inspired by the past, but she's clear that her goal is to understand how her vision of Americana can exist in the future as well as thrive in our present digital world: "Many so-called Americana acts attempt to re-create an archival version of the past or a past of the imagination. Nothing wrong with that…both are valid & important. But I'm interested in the future…where are we going ? How do we get there ? How does our past inform our journey towards the future ?"
Though her music touches on our common American roots, Nancy K. Dillon is not afraid to toss in a burning electric guitar lick next to a rollicking banjo line, just like she's not afraid to call out odes to "hipsters in thrift store clothes" or to imagine that her trainman-union official great-grandaddy might have encountered Woody Guthrie and bought him a meal in exchange for a joke and a song. Nancy K. Dillon clearly has a talent for traveling back and forth through time with her own brand of "Avant-Garde Americana."
Recent Posts