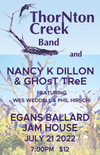 July 21, 2022 ~ Nancy K. Dillon & Ghost Tree co-bill with ThorNton Creek Band @ Egan's Ballard Jam House
July 21, 2022 7pm
I am looking forward to playing my first live show in....well, let's say, some time....next week on Thursday, July 21st in Ballard at the fine and friendly Egan's Ballard Jam House. I'll be sharing the bill with my good pals, ThorNton Creek Band. Reservations are recommended for this award-winning listening room & intimate space.
Address: 1707 NW Market Street, Seattle, WA 98107
Phone: (206) 789-1621
Visit http://www.ballardjamhouse.com/ for further information.